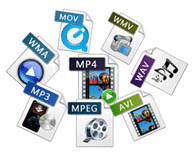 Video is an important part of life and education. We use videos in class for a variety of reasons. Videos come in many different formats too. It's no fun to need to have 3 or 4 different video players (Windows Media Player, Real, Quicktime) to play them all. While most of them can play formats that others can, I've run into problems with all of them. Some videos won't play on them at all, and others are lower quality. Solution: VLC Multimedia Player.
VLC Multimedia Player is a free, open-source, video and audio player that

plays most multimedia files as well as DVD, Audio CD,

VCD, and various streaming protocols.
VLC Multimedia Player is easy to use and starts up quickly. It can play video and audio files, DVD, CD and VCD and can play streaming video. It rarely needs any additional downloads to play most videos.
You can also use it to convert video and audio files to other formats (especially handy for converting certain formats to be able to upload them to a website or use on a mobile device).
VLC Multimedia Player is free, easy to use, and very powerful. It is available for Windows, 10 different versions of Linux, Mac, iOS, and Unix.
Screenshot on my system.
You can see more screenshots
here.