Soundtrap
is a new site that lets you make music online, from any device, with your own instruments or the virtual ones on the site. The free version offers 5 projects, 750 loops, 151 instruments and sounds and lots of other features. There are premium levels with more features and less limits.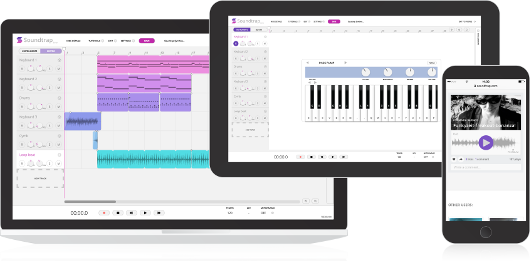 Soundtrap works on Mac, Windows, iPad, Android tablets and phones, Linux and
Chromebooks
. It allows you to start, edit and collaborate on your recordings wherever you are.
You can collaborate with others and even share your music on Facebook, Twitter and SoundCloud, as well as iTunes.
You can sign in with Office 365, Google, Facebook or an email account.
This is a great tool that schools can use to help students learn and explore music.
The
Education version
is in a walled garden and COPPA compliant and has different pricing than the consumer version. With this version, students and teachers are in their own private area and can more easily collaborate. Pricing is based on number of users - Starter Pack is $249/year for up to 50 users. You can use the online calculator to find pricing for more users.
A great resource for schools, especially with all of the cuts to music an arts.
-